Our approach to making a difference
100% Recyclable & Reusable Plastics to Prevent Disposal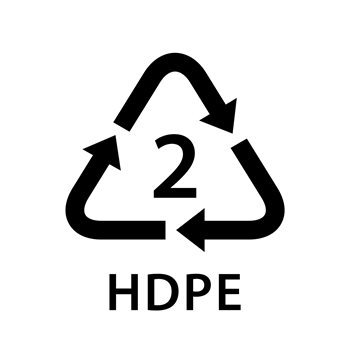 We take great efforts to bring awareness to our customers that our HDPE plastics and products are recyclable and reusable. We provide reusable packaging systems that can eliminate the need for disposable packaging, and also provide better product protection with less materials, thus reducing packaging materials, product damage and losses associated with it. We have numerous success stories of customers that eliminated single-use disposable practices for durable and reusable HDPE solutions to eliminate waste. More generally speaking, the creation of more durable goods can be a beneficial approach to waste reduction. We also take meaures during the manufacturing process to reduce, reuse, and recycle plastic waste through continuous sustainability efforts.
HDPE Recycling Facts
HDPE is 100% recyclable, as it is one of the easiest plastic polymers to recycle.
The resin identification code for high-density polyethylene (HDPE) is '2'.
Easily recycled via curbside recycling program.
HDPE is accepted at most recycling centers in the world.
Sonic welding eliminates the use of glues, staples, and wires. Plastic boxes, totes, and containers that are sonic welded require no additional steps of sorting at recycle facilities.
Within Manufacturing
Liberty Plastics, Inc. applies a holistic approach to minimizing the environmental impact our manufacturing facility and products have on our environment. We use the Waste Management Hierarchy from the EPA to guide our practice to reduce, reuse, and recycle our plastics. Our long-term goal is to minimize the waste and maximize the benefits our plastics offer.
Source Reduction
We take great efforts to reduce the sourcing of virgin resin and find ways to capture and reuse. To decrease the use of virgin resin in the manufacturing process, we incorporate post-industrial recycled plastic. All Liberty Plastic products include non-virgin, recycled plastic unless otherwise requested.
Reuse
Liberty Plastics manufacturing facility captures 99% of the HDPE plastic waste generated. A specially designed system catches and processes resin waste off the manufacturing line. The resin is then recycled back into resin pellets and extruded once again. Our machines are specially designed to reduce the heat history cycle, eliminate floor sweep waste, and manufacture a consistent product from recycled resin.
Waste & Energy Recovery
We recognize water as a valuable resource and is why we have initiatives in place that reduce our water footprint. All water systems are close- looped, filtered, and then recycled back into our plant for reuse. Our full LED lighting footprint coupled with a Tennessee Valley Authority partnership ensures that we remain energy efficient into the future.
Continuing to find new ways to reuse our resources during the manufacturing process is an essential and valuable initiative for us.
Helping Customers Produce Less Waste
We have conversations everyday with businesses about the benefits of reusable plastics over single-use materials. Informing customers about design and how small changes can make a large impact. Helping customers to eliminate waste and increase their sustainability. Engaging customers about how they can reuse and then recycle. We look forward to helping you, too.
Let us design your solution
From design to fabrication, Liberty Plastics provides all-inclusive services to our customers, distributors and partners to create your finished product. Our custom solutions process ensures that our design and fabrication teams create and develop the quality corrugated plastic custom solution you desire.