HDPE Corrugated Rolls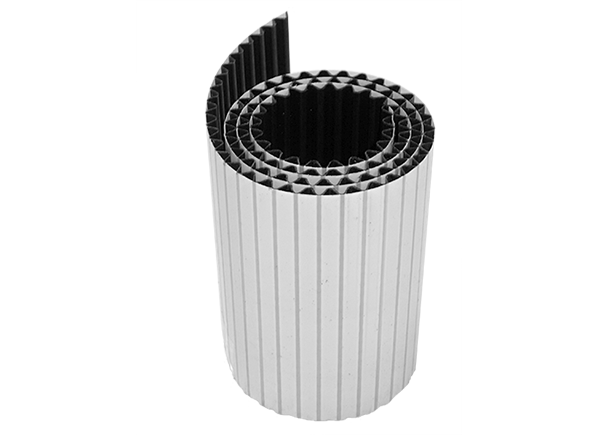 Liberty Plastics provides a select offering of HDPE corrugated plastic rolls ready for immediate shipping. Our single-face corrugated plastic roll is flexible so that it can easily bend and curve, and provide the strength and durability you'd expect in a high-density plastic. HDPE corrugated rolls fit a variety of applications and industries; especially for transportation and protection of cable, wire, pipe, reel and spooled products. HDPE corrugated plastic is a superior material and alternative solution to corrugated paper and polypropylene (HDPP) board that would otherwise need to be slit scored.
Standard Colors
Black
White
Features
HDPE Performance & Capabilities
Made from our high-density polyethylene (HDPE) laminate board, which is lightweight, strong, versatile, reusable, and weather and chemical resistant. Performs well under extreme cold and heat while resisting cracking. Also resists punctures and surface abrasions and holds superior surface crush properties.
Flexible Corrugated Plastic
Can easily flex, bend, and curve while also providing strength and durability. When used for protective wrapping applications, it provides a tight fit without the need to slit score. Allows for manufacturing capabilities up to 900 feet in length.
Proprietary Single-Face Design
Unlike conventional corrugated plastics that are designed with a double-face design with straight flutes that produces a rigid and stiff plastic that is unable to bend, our proprietary and unique design is manufactured using a single-face design with waved flutes. When traditional plastics are forced to bend they produce a white crease at the site or must be slit and scored to prevent doing so.
Diverse Applications
Transport, storage and protection of goods, marine applications, reel and spool protection, cable and wire applications, containment, industrial, agriculture, boarding material, and many more.

Reuse & Reduce Shrinkage
In the most rigorous environments and applications Liberty Plastics corrugated plastic continues to outlast and outperform other materials providing customers a way to reuse product, reduce shrinkage costs, prevent waste, and increase productivity and efficiencies.
Recyclable
HDPE corrugated plastic can be recycled once it has past its lifespan. Made in the USA.
Customization
Don't see what you're looking for? Customization is our specialty!
Color Customization

Need a specific color?
We can do that!


Logo Printing

The freedom to personalize your products.

Manufacturing Solutions

Our capabilities run long and wide when it comes to manufacturing corrugated plastic. We provide custom solutions for other manufacturers, distributors and suppliers, packaging fulfillment companies, shippers and transporters.

Learn More
Learn the value of laminate
The superior performance of our high density polyethylene (HDPE) laminate board will drive your competitive advantage.
Rugged yet lightweight
Tear, puncture & high-impact restraint
Prolonged life cycle
Reusable
Withstands extreme weather conditions
100% Recyclable
Resists mold, mildew, rotting & corrosions
Direct to substrate printing
Moisture Resistant
Bendable
Custom Colors
Resists a wide range of chemicals, grease & dirt
Single or double face flexibility
Rollable
Triple wall laminate
Have Questions?
Our experts are here to discuss applications, product design, custom quotes and more.